Top 5 Resources that Help You to Build a Website in Less Time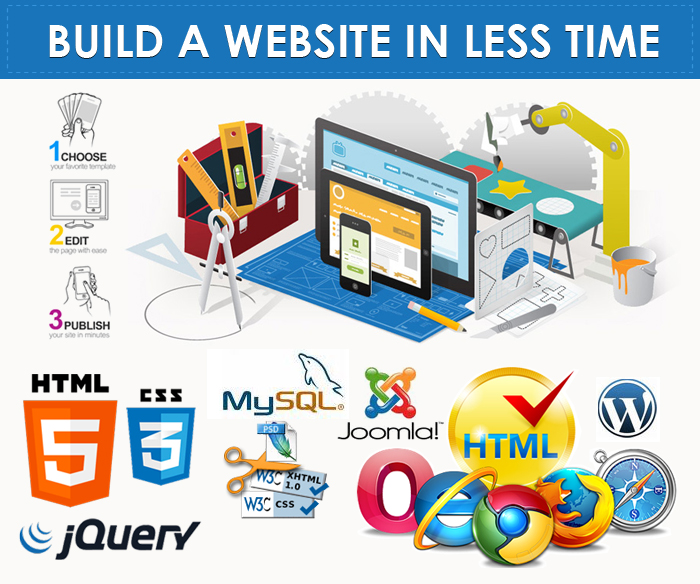 Given that having a web presence is a must for your business these days, it is surprising that so many small business owners continue to operate without even having a basic company website on the net, leave alone doing business through the net. It is estimated that more than half of American small business owners have not yet made their presence felt on the net by way of hosting their company website. The basic reason for this is that most small business owners feel that creating a company website is a costly and time consuming process and they are simply scared of getting into something they do not have too much knowledge about.
But having a presence on the net is no more an option. Businesses that choose to ignore the enormous potential of the internet are likely to be left behind as their more forward looking competitors race ahead by using the power of the net to grow their business. If you simply don't have the time to invest in building a website, there are plenty of resources available on the net to help you build a basic, attractive looking website within hours. We list down the Top 5 resources on the net for your convenience.
Google's 'Get Your Business Online' is an initiative aimed to encourage small business owners to take the internet route. With a complete online toolkit for creating a website from scratch, Google GYBO.com has everything you need to get your website up within hours. For business owners with no coding skills, GYBO.com is a convenient option as it allows them to choose a custom domain name and site design from among the choices available and customize them as per their requirement. All the site needs is some amount of content on the webpages and the site is up and running with no coding needed and no external intervention whatsoever.
Homestead is another very good resource available on the net that works on a simple format of templates. It provides all the services of hosting, website creation as well as basic analytics at one single place. With industry specific templates and content, you simply need to select a design and the images and content related to the industry get populated automatically. The only drawback is that customizing options are limited in nature.
Fantastico is an ever favorite resource for website creation chiefly because of its auto install features. With a choice of over 50 different scripts, all you need to do is choose a script and Fantastico does the rest. Your website is up and running with the minimal time and effort on your part.
Content Management Systems however are the most popularly used means of creating a website. CMS sites like WordPress, Drupal and Joomla and Squarespace allow you to access your website and add new pages with pictures and images as well as do other customizations. They also allow you to categorize and list the pages in different ways depending on your particular business need. While each of these CMS platforms vary in what they allow you to do and what they don't, they all enable you to build a basic foundation of your website which can be up and running in not just hours, but minutes as well.
The following two tabs change content below.